Telehealth services surged in 2020 and 2021, fueled by the COVID-19 pandemic and subsequent loosening of regulations by the government. And as we head further into 2022, two things are certain: 1) telehealth is here to stay, and 2) providers must remain attuned to telehealth rules and billing requirements in order to be successful.
The Basics
First things first: what's the difference between telehealth and telemedicine? Telehealth is a broad term that involves non-medical and medical services while telemedicine involves the use of electronic communications and software to provide remote medical care. Coverage for telemedicine existed before March 2020 but was used only rarely in place of in-person services. These days, you should check with each payer for their approved CPT Code list and associated modifiers before you submit a claim. Remember that e-visits, virtual check-ins, or other similar services still don't replace CPT codes for full evaluation and treatment services, and federal laws and regulations may affect your ability to provide telehealth services. The loosened HIPAA regulations don't apply across the board, so providers must always ensure due diligence to payer policy; especially when providing a new service or a new delivery model, such as telehealth.
CMS 2022 General Updates
This year, the Centers for Medicare and Medicaid Services (CMS) introduced categories for the telemedicine services:
Category 1 – The service is essentially like a service already on the eligible list.
Category 2 – The service is not like one already on the eligible list and there is evidence that demonstrates clinical benefit to the patient if it is provided via telemedicine.
Category 3 – The service was originally placed on a temporary list during the Public Health Emergency (PHE) and has now been extended to the end of CY 2023. Examples include:
93797 – Physician or other qualified health care professional services for outpatient cardiac rehabilitation; without

continuous ECG monitoring (per session)

93798 – Same as 93797;with

continuous ECG monitoring (per session)

G0422 – Intensive cardiac rehabilitation; with or without continuous ECG monitoring with

exercise (per session)

G0423 – same as G0422;without

exercise (per session)
CMS 2022 Mental Health Service Updates
CMS confirmed that audio-only services can be used as a delivery modality for the treatment, evaluation, and diagnosis of mental health. CMS was able to enact this policy based upon a redefinition of "telecommunications systems," which added the word "interactive." Medicare has certain conditions that must be met to make these services eligible for reimbursement:
It is for an established patient and
The home is the eligible originating site and
There was a six-month in-person item or service provided and a 12-month subsequent in-person visit scheduled and
The provider has live-video capability but utilizes audio-only because the patient chose or cannot use live video and
A service level modifier will be created for these visits and the provider documents why audio-only was used (language for this is being finalized by CMS).
CMS 2022 FQHC & RHC Updates
Federally Qualified Health Centers (FQHCs) and Rural Health Clinics (RHCs) also had a redefinition under the CY 2022 Physician Fee Schedule (PFS). A mental health visit for an FQHC or RHC can now be furnished through interactive, real-time telecommunications technology when furnishing services for the purposes of diagnosis, evaluation, or treatment of a mental health disorder. For these services, FQHCs and RHCs are required to use the 95 Modifier for live -video interactions and a new modifier will be created for audio-only. FQHCs and RHCs are subject to the same requirements to provide services via audio only when the patient is not capable of or does not want to use live video, as well as the same six-month in-person visit and subsequent 12 month in-person visit requirements.
CMS 2022 CTBS Updates
Communications Technology Based Services (CTBS) are services that utilize technology; however, there is no comparable in-person service for them.
G2252/99442 – A brief communication technology-based service, virtual check-in service, by physician or other qualified health care professional who can report E/M services, provided to an established patient, not originating from a related E/M service provided within the previous 7 days nor leading to an E/M service or procedure within the next 24 hours or soonest available appointment, 11-20 minutes of medical
CMS 2022 RTM Updates
Remote Therapeutic Monitoring (RTM) codes are primarily meant to be used by psychiatrists, nurse practitioners (NPs), and physical therapists (PTs). RTM allows for non-physiological data to be collected and billed as a service. However, there should be reviews done to confirm whether these services will be covered provider types or if the services must be provided directly by the billing practitioner or, in the case of a PT or OT, by a therapy assistant under the PT's or OT's supervision.
Remote therapeutic monitoring initial set up and patient education on use of equipment: 98975
Remote therapeutic monitoring with device(s) supply with scheduled recording(s) and/or programmed alert(s) transmission(s) to monitor a system, each 30 days:
98976 – respiratory
98977 – musculoskeletal
Remote therapeutic monitoring treatment management services, by physician or other qualified health professional time in a calendar month requiring at least one interactive communication with the patient or caregiver during the calendar month:
98980 – first 20 minutes
98981 – each additional 20 minutes
CMS 2022 CCM & PCM Updates
Chronic Care Management is when there are two or more chronic conditions that are expected to last at least 12 months, the patient is at significant risk for decline or death, and a comprehensive plan is established, implemented, and monitored. The service is billed once per calendar month.
Clinical staff time directed by a physician or other qualified health care professional:
99490 – initial 20 minutes
99439 – each additional 20 minutes
Physician or other qualified health care professional provided the service:
99491 – initial 30 minutes provided
Principle Care Management, on the other hand, is services for a single high-risk disease that is expected to last at least three months, the patient is at significant risk of hospitalization, decline or death, a disease-specific care plan is established that requires constant monitoring and frequent adjustments, and there is ongoing communication and care coordination between relevant practitioners furnishing the patient care.
Physician or other qualified health care professional provided the service:
99424 – first 30 minutes
99425 – each additional 30 minutes
Clinical staff time directed by a physician or other qualified health care professional:
99426 – first 30 minutes
99427 – each additional 30 minutes
CY 2022 MEDICARE REIMBURSEMENT FOR MENTAL HEALTH SERVICES VIA TELEHEALTH AND AUDIO-ONLY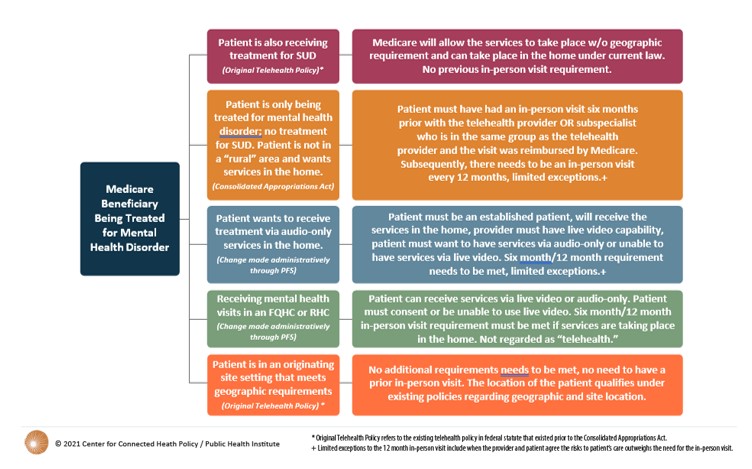 These are the changes made for the beginning of 2022; however, modifications will continue, and telehealth and telemedicine services will expand due to the increased presence of technology and a population that is becoming more and more comfortable with distance care. If you have questions about the 2022 CPT Code Changes or other billing and coding needs, our team is here to help. Please contact Laura Summy at LSummy@medicmgmt.com to schedule a conversation.
Laura Summy is Manager of Coding at MMG Healthcare Solutions / Medic Management Group. MMG is a national provider of consulting services and back office administrative support to independent and system owned physician practice groups. Additionally, MMG has been formally recognized as a multi-year Northeast Ohio Top Workplaces award winner.